Your Donations Make a Difference
These are the ongoing programs that your donations to Gifts For Kids help support in our community.

The primary mission of the Gifts For Kids Program has been to provide toys and financial assistance to less fortunate children in the Edgerton school district during the holiday season

Family Care Bag
Every family who signs up for the Gifts For Kids or Giving Tree Program will receive a Family Care Bag at the drive through distribution that includes many of those items often left off the shopping list at Christmas time.

Youth Assistance For Edgerton Students
Provide financial assistance to Edgerton School District students to stay involved with school activities and to provide clothing that they would not otherwise be able to afford.

8th Grade Holocaust Interdisciplinary Unit
Sponsor the 8th Grade Trip to the Illinois Holocaust Museum and Education Center to further their teaching mission.

Care Closets in Edgerton
The Care Closet program currently includes 5 Care Closets in the Edgerton school district (High School, Middle School, Elementary School, Yahara School & Alternative school)


Edgerton Teen Center
What a wonderful place for teens. Gifts For Kids is thrilled to support this local nonprofit with many of their teen-focused projects, programs & wish list items.

Edgerton Public Library
What a wonderful place for children of all ages. Gifts For Kids is thrilled to support the Edgerton Public Library with many of their children related projects, programs & wish list items (including adding a NEW Monarch station in 2022)

Free Swimming Lessons
Offering FREE swimming lessons for low-income families with children birth to 12 grade in Edgerton. Swimming lessons are offered in Edgerton 3 times per year: Summer, Fall & Winter!

Friends of Silverwood Park
The Siverwood Summer School is a 3 week summer school where children will meet and learn about farm animals, farm & tractor safety as well as plant, tend, harvest, and enjoy.

Edgerton Tobacco Days Parade
Since 2014 Gifts For Kids has been proudly represented in the Annual Edgerton Tobacco Days parade.

Holiday Light Parade & Central Park Light Display
A proud participant and supporter of the Annual Edgerton Holiday Light Parade and Central Park Light Display.

Socktober
Warming the feet of Edgerton children since 2014. The Smerchek brothers (Zack, Drake, Luck & Brecken) founded & lead Socktober in Edgerton every October! To date, 14,021 socks have been collected & donated to the children of Edgerton.

Expression Swing
Gifts For Kids donated 3 Expression Swings (Central Park, Race Track Park & Albion Park). These 3 Expression Swings promote intergenerational play in which an adult and child interact face to face and eye to eye. Research tells us when a parent and a child's eyes meet, particularly during play, there is an intense and significant moment of emotional bonding that occurs.

Fishing Derby
A proud sponsor of the Edgerton Fishing Derby held every May at the fishing pond in Edgerton.

ECO's Summer Lunch Program
A proud supporter of this ECO program since day one. All youth in the Edgerton School District are welcome! For more information See Edgerton Outreach Website

Weekend Grub Club
The WGC (ECO program launched in 2018) is a true community partnership between ECO, Emmaus Community Church, and Gifts For Kids. The WGC provides children with food for the weekend thanks to our leaders, volunteers & donors.

Sleep in Heavenly Peace
No kid sleeps on the floor in our town! Proud to have been one of the first to sponsor this new Edgerton child-centered program.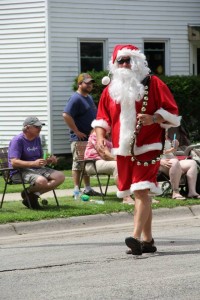 Together we can make a difference!
Please consider making an online donation to Gifts For Kids by clicking on the Donate button or sending a check to our mailing address below. Our organization is run and supported 100% by volunteers. All donations and profits from our fundraisers are used to support our programs.